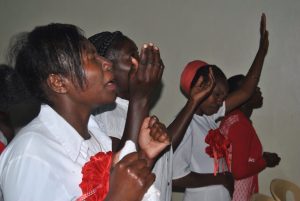 Gratia Church in Nairobi had a special worship event called "Worship Experience" on Dec 3rd Sunday in the afternoon. This event was planned as people love worship songs and the place where the worship sound is heard. So through it, even people can be evangelized.
There was a united team which was composed of people from different churches, and they practised at Gratia church for this event. So they led worship and praise time as the event started.
After that, Pastor Thomas shared a message from John 4 about "Worship God in Spirit and Truth" which was the theme of the event. He shared how the people of Israel become ugly in the eyes of God with worshipping idols and in John4, the Samaritan woman who had many husbands teaches us how we can have many idols in our lives. Worship is not only the time of singing songs, but it is the life which we offer to God (Romans12:1), and it is the life leaving the sins and becoming more holy and righteous.
After that, Beulah Band who joined this day led the people to the deep worship and praise and prayer time. People were touched by worship songs and the message, and they prayed deeply repenting the sins.
They had the photo time after finishing the events. It was a great moment and they could be the good friends in this worship experience.
God transformed many people's heart, and one person called Joseph accepted Jesus Christ as his personal saviour.
Gibson, the leader of Beulah band shared later at the online chat group, "Tears… it's flowing till now my heart is burning this has been a great encounter. Personally, I am so changed, my life has got another direction. God really ministered to me… I am transformed"
Susan shared "Me too, I was blessed, just feel blessed. It was so powerful"
Lucy shared "Today I encountered God"
Gratia church leaders saw the impact of the worship experience to the people. They had new strength, and their heart has been transformed. They wish to have this kind of events again and guide many people through it.